September 6, 2017           This came up at the most recent support group meeting, and some of the old-timers had not heard the term before:
Gleason score grade group
A NEW CONTEMPORARY PROSTATE CANCER GRADING SYSTEM  from    http://pathology.jhu.edu/prostatecancer/NewGradingSystem.pdf
Problems with the Current Gleason System
Scores 2-5 are currently no longer assigned and certain patterns that Gleason defined as a score of 6 are now graded as 7, thus leading to contemporary Gleason score 6 cancers having a better prognosis than historic score 6 cancers.
The combination of Gleason scores into a 3-tier grouping (6,7,8-10) is used most frequently for prognostic and therapeutic purposes, despite 3+4=7 vs. 4+3=7 and 8 vs. 9-10 having very different prognoses.
In practice the lowest score is now assigned a 6, although it is on a scale of 2-10. This leads to a logical yet incorrect assumption on the part of patients that their cancer is in the middle of the scale, compounding the fear of their cancer diagnosis with the belief that the cancer is serious, thus leading to an expectation that treatment is necessary.
Proposal for a new Grading System
To address the above deficiencies, a new 5 Grade Group system has been developed based on a study of >20,000 prostate cancer cases treated with radical prostatectomy and >5,000 cases treated by radiation therapy (see composite photograph for different patterns).
Grade Group 1 (Gleason score ≤6) – Only individual discrete well-formed glands
Group 1: what we call low risk
Grade Group 2 (Gleason score 3+4=7) – Predominantly well-formed glands with a lesser component of poorly-formed/fused/cribriform glands
Grade Group 3 (Gleason score 4+3=7) – Predominantly poorly-formed/fused/cribriform glands with a lesser component of well-formed glands†
Groups 2, 3: what we call medium risk/aggressiveness
Grade Group 4 (Gleason score 8)
– Only poorly-formed/fused/cribriform glands or
– Predominantly well-formed glands with a lesser component lacking glands †† or
– Predominantly lacking glands with a lesser component of well-formed glands ††
Grade Group 5 (Gleason scores 9-10) – Lacks gland formation (or with necrosis) with or w/o poorly-formed/fused/cribriform glands
Groups 4,5: what we call high risk/aggressiveness
†  For cases with >95% poorly-formed/fused/cribriform glands or lack of glands on a core or at RP, the component of <5% well-formed glands is not factored into the grade
††  Poorly-formed/fused/cribriform glands can also be a more minor component
The five-year biochemical recurrence-free progression probabilities for radical prostatectomy Grade Groups 1-5 were 96%, 88%, 63%, 48%, and 26%.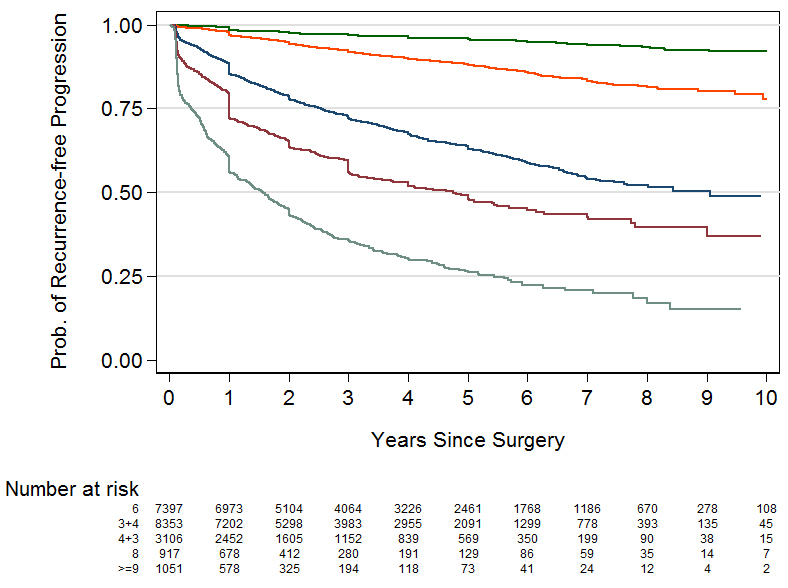 The 5 Grade Groups were also predictive for biopsy grade followed by radical prostatectomy or radiation therapy.
The new system distills grades of prostate cancer down to the lowest number of grades, each with a unique prognosis. As a result of significant differences in criteria and reporting compared to the Gleason's original grading system, we have regarded the newly proposed grade groups as a new grading system.
SUMMARY
The new grading system for prostate cancer has obvious benefits:
More accurate grade stratification than the current Gleason system
Simplified grading system of 5 as opposed to multiple possible scores depending on various Gleason pattern combinations
Lowest grade is 1 as opposed to current practice of Gleason score 6, with the potential to reduce overtreatment of indolent prostate cancer
The new grading system, using the above terminology, has been accepted by the 2016 World Health Organization (WHO).
To avoid confusion, it will be prudent to report the new grading system, in conjunction with the Gleason system, until it becomes widely accepted and practiced [ie. Gleason score 3+3=6 (Grade Group 1)].
Epstein JI, Zelefsky MJ, Sjoberg DD, et al. A contemporary prostate cancer grading system: A validated alternative to the Gleason score. Eur Urol (2015).
Discrete Well-formed Glands (Gleason Patterns 1-3)
Copyright 2013 – The Johns Hopkins University. All rights reserved. Jonathan Epstein, M.D.
Gleason Patterns 1-3: from left to right
1st Row: Closely packed uniform sized and shaped large glands; Large variably sized and shaped glands, some with infolding; Uniform medium sized glands; Variably sized glands
2nd Row: Occasional tangentially sectioned glands amongst well-formed small glands; Occasional tangentially sectioned glands amongst well-formed glands with open lumina; Back-to-back discrete glands; Branching glands
Gribriform/Poorly-formed/Fused Glands (Gleason Pattern 4)
Copyright 2013 – The Johns Hopkins University. All rights reserved. Jonathan Epstein, M.D.
Gleason Pattern 4: from left to right
3rd Row: Large irregular cribriform glands with well-formed lumina; Irregular cribriform glands with slit-like lumina, glomeruloid structures, and fused glands; Irregular cribriform glands with small round lumina; Small round cribriform glands
4th Row: Poorly-formed glands with peripherally arranged nuclei; Small poorly-formed glands; Small poorly-formed glands; Fused poorly-formed glands
Sheets/Cords/Single Cells/Solid Nests/Necrosis (Gleason Pattern 5)
Copyright 2013 – The Johns Hopkins University. All rights reserved. Jonathan Epstein, M.D.
Gleason Pattern 5: from left to right
5th Row: Sheets of cancer; Sheets of cancer with rosette formation; Small nests and cords of tumor with scattered clear vacuoles; Individual cells
6th Row: Nests and cords of cells with only vague attempt at lumina formation; Solid nests of cancer; Solid nests with comedonecrosis; Cribriform glands with central comedonecrosis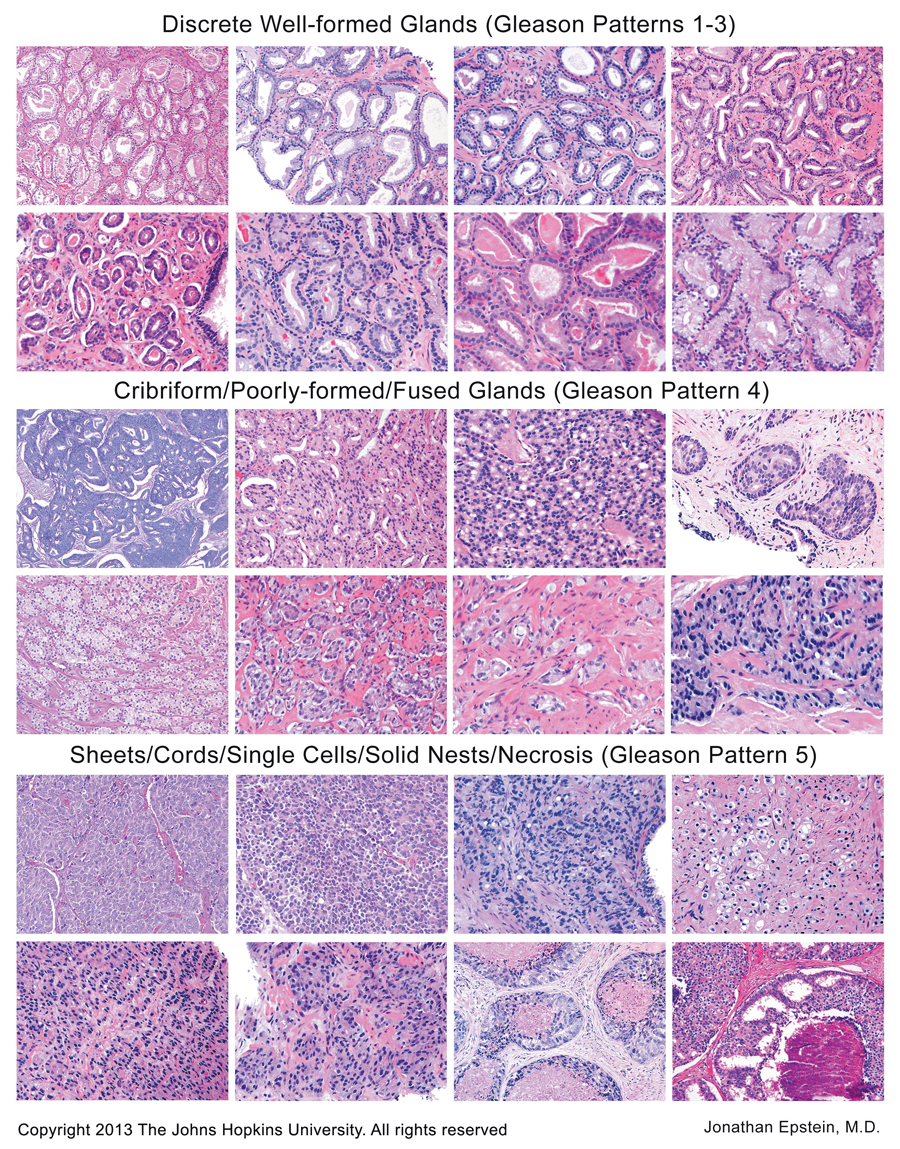 Member MZ submitted this very interesting article:   June 22
The Single-parameter, Structure-based IsoPSA Assay Demonstrates Improved Diagnostic Accuracy for Detection of Any Prostate Cancer and High-grade Prostate Cancer Compared to a Concentration-based Assay of Total Prostate-specific Antigen: A Preliminary Report
4 K Test price dropped from $1900 to $595     May 15, 2017
We often hear from patients and physicians alike interested in learning more about the 4Kscore test as well as the associated cost. We have always worked to offer the 4Kscore tests at a reasonable price. With our Patient Health Advocacy Program, we are committed to increasing access to the 4Kscore for patients who do not have health insurance. Through these efforts, we have been successful in making comprehensive testing available to an expanding network of patients.
The New Price of the 4Kscore Test
We are very excited to announce that the 4Kscore test is now more affordable. The price has been reduced from $1900 to $595, making testing more accessible to men at an increased risk of having aggressive prostate cancer. If you would like to discuss your specific situation, and our self-pay and payment plan options, please call our specialized billing hotline at 855-4KBILLING (855-452-4554) between the hours of 9am and 9pm EST, Monday-Friday.
The Cost of Unnecessary Biopsies
As we recently discussed in a post on the topic, the cost associated with unnecessary biopsies preformed in the United States annually is staggering. Not only is the 4Kscore aiding in the biopsy decision making process, it can help to reduce the number of unnecessary biopsies performed on an annual basis.
In helping patients, along with their doctors, make informed decisions about prostate biopsies, the 4Kscore is dramatically reducing the pain and cost associated with unnecessary procedures.1 In reducing the cost of the 4Kscore, we aim to make an even greater impact in the fight against prostate cancer.
Learn More About the 4Kscore Test
Whether you are a patient or a physician, we encourage you to contact us today. Learn more about the benefits of the 4Kscore. Find a laboratory in your area or begin offering the 4Kscore in your practice. Together we can make a difference!
Voigt, J. D., MPH, MBA, Dong, Y., PhD, Linder, V., PhD, & Zappala, S., MD. (2017). Use of the 4Kscore Test to Predict the Risk of Aggressive Prostate Cancer Prior to Prostate Biopsy: Overall Cost Savings and Improved Quality of Care to the US Healthcare System. Reviews in Urology, 19(1), 1-10.
The Board of Directors   has recently hired an Office Administrative Assistant.  She  started work on March 1.  We will keep the office, and our Library, open 4 days a week,   Mondays thru Thursdays, excluding holidays, from 10 am to 2 pm.  She will handle the day to day office duties, phone, emails, library, referrals, etc.
If a newly diagnosed person, or a member, comes in for information or guidance, she will call the Board Member on call that week to set up an appointment to visit or call that person. Hopefully this will give the Board more time for Outreach activities and other duties.
Her name is Ann Weinberg.  She has a strong background in government and social service work. She has 2 children, her husband works for   a family foundation, and she also volunteers with  a Hospice group.
Come in for our expanded hours to say hello or use the Library.  5/30/2017
New York is quite far away, but we have a wide geographical range in our membership.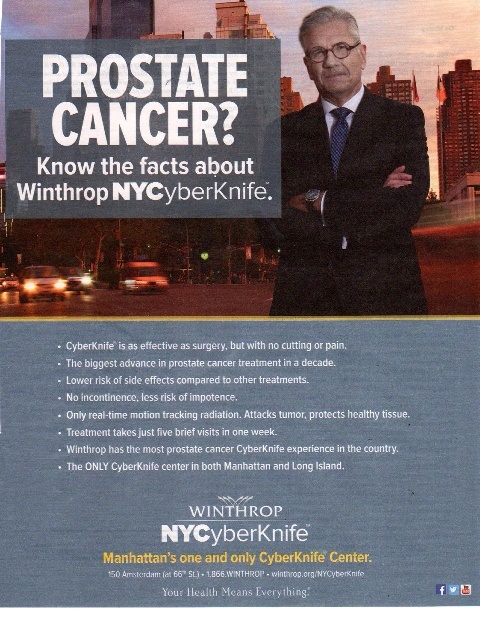 April 15  Dr. Fabio Almeida spoke to us on                                                        Scanning  Developments
Dr. Fabio Almeida has been on the cutting edge of scanning with C11 Acetate PET/CT for many years.  In an article he published in Dec. 2015 he said, "The primary difficulty is that standard imaging techniques such as technetium (T99) bone scan, CT scans and MRI are usually unable to see small recurrent tumors outside the prostate, or metastases. These studies are therefore very limited in terms of directing focal treatment and so also limit potential treatment options. An accurate global (total body imaging) assessment is needed to identify all locations of metastases. The recent development of whole body imaging with C11-Acetate PET/CT appears to facilitate the identification of early, limited recurrent prostate cancer and appears to provide a tool to help better guide individualized treatment options."   This should be a great presentation and of course there will be time for sharing as well.
His website is here  http://www.phxmi.com/home.html  
Newsletter   http://nebula.wsimg.com/392263b5f5a7224e4f4c37123b77c627?AccessKeyId=8130C8A06310621BD79C&disposition=0&alloworigin=1 
Videos of other talks to PCRI, etc     http://www.phxmi.com/news-events.html            includes a talk he made to us at our 2013 Conference
December 30
Health after 50 has an article on  Early Prostate Cancer: Treat or Monitor?
WebMD with Robin Roberts has a video The Cutting Edge of Cancer,  Search and Destroy: Targeted Cancer Therapy
Prostate Cancer Research Institute has an article on their website about PET Imaging
December 19, 2017
In the January 2017 newsletter there was a chart on prostate cancer drugs. Here is the rest of that article which had all the drugs listed.