For information about genetic counseling and/or genetic testing for yourself and your family from Shawnia Ryan's talk at the June 2, 2018 meeting, go to Shawnia Ryan   Slides will be coming soon. 6/2/18
As usual, Dr. Ramesh Gopal gave a very interesting talk at the bi-weekly support group meeting, this time  on the National Comprehensive Cancer Network  Guidelines for Prostate Cancer Treatment.  NCCN promotes the importance of continuous quality improvement and recognizes the significance of creating clinical practice guidelines appropriate for use by patients, clinicians, and other health care decision-makers. The entire NCCN site is here   https://www.nccn.org/ 
Dr. Gopal's slide show presentation of Prostate Cancer Doctor Guidelines, dated February 2018,  is here    NCCN Guidelines prostate May 18  
All of the Prostate Cancer online materials are here
You do need to set up a free account and login in order to see  or download of the NCCN materials, including the patient guidelines from the site. I have saved the most recent version pdf of patient info from 2017 here         NCCN prostate_blocks patient
We do have a few copies of Cinician guidelines in the office.
May 19, 2018
At the May 5 support group meeting, Janice Wilson from Compassion and Choices gave an excelllent talk on Advanced Healthcare Directives. Here are notes from her presentation, and a list of resources prepared by C&C's Albuquerque Action Team.  Their website, with all their forms,  is  here:    https://www.compassionandchoices.org/new-mexico/
 Resource list developed by AAT-4-2018
Prostate Support Meeting Notes 5-5-2018
May 21
A new program from PCSANM
The Prostate Cancer Support Association of New Mexico (PCSANM) is launching a program to help men who have never had a PSA test or haven't had one in a long time to get the test for free.
The Prostate Cancer Support Association of New Mexico believes men should have at least a baseline PSA score for reference, starting at age 50 for most men, and age 40 for high risk men; African Americans and men with a family history of prostate cancer. Prostate cancer strikes about one in seven men during their lifetimes and about one in six for African Americans.
This new program is designed for men who haven't had a recent PSA test, for reasons such as but not limited to no doctor or health care, no insurance, show troubling symptoms, or need reassurance. It is not designed for our current PCSANM members. It is not designed for men who get regular checkups and blood work. A gentleman is entitled to one lifetime use of this program.
We will only ask you for your name and dob, address, email, and phone number for our tracking. No one from our group will call you (except to remind you to use the voucher after a month), email or write you. User may give us their info to get on our mailing/notices list if they wish before or after testing, or if they want to receive our materials. All our services, including 1 on 1 consults, buddy list, library, meetings, etc are free support services by fellow Prostate Cancer survivors, and unpaid peer facilitators for the group.
To receive this free PSA blood test, you must come to our office at 2533 Virginia St NE, Suite C, Albuquerque, NM 87110, just NW of Wyoming and Menaul to pick up a voucher. Our office is open Monday thru Thursday, 10 am to 2 pm.
When you present this voucher to the specified Any Lab Test Now facility, at 2305 San Pedro NE, Suite D1, Albuquerque, NM 87110, they will draw blood, and you can choose how you want to get your results: fax, mail, email, pickup yourself. Tests before 4 pm get results in one day, tests after 4 pm take 2 days. Their office is open Monday thru Friday, 9 am to 5 pm. PCSANM will have no knowledge of your results.
If you want to come back to our office to find out more information, we are glad to help. We strongly encourage you to share your results with any medical personnel you do see.
A PSA test is a simple blood draw that measures the level of a protein called prostate-specific antigen (PSA), which is manufactured by the prostate. Doctors use the test to help detect cancer, but it does not provide a definite diagnosis.
Finally, if you don't fit into this target group, but know someone who does – family member, coworker, or friend, for example – let them know about it.
Slide Shows from the November 4 Conference are now on the Fall Conference page                                                November 13
PCSANM will be on the telly                                6/29/2017
 PCSANM is going to partially underwrite the Monday mornings/afternoons/evenings PBS news shows– BBC World News America, Charlie Rose, Democracy Now, Deutsche Welle, NHK World News Line, Nightly Business Report, PBS News Hour, and Tavis Smiley.
They are shown locally on KNME TV-5, channel 5.1 and KNMD, channel 9.1. Comcast has  5.1 on 5 and 220; with  9.1 on 204.   Check with your satellite providers for their channels.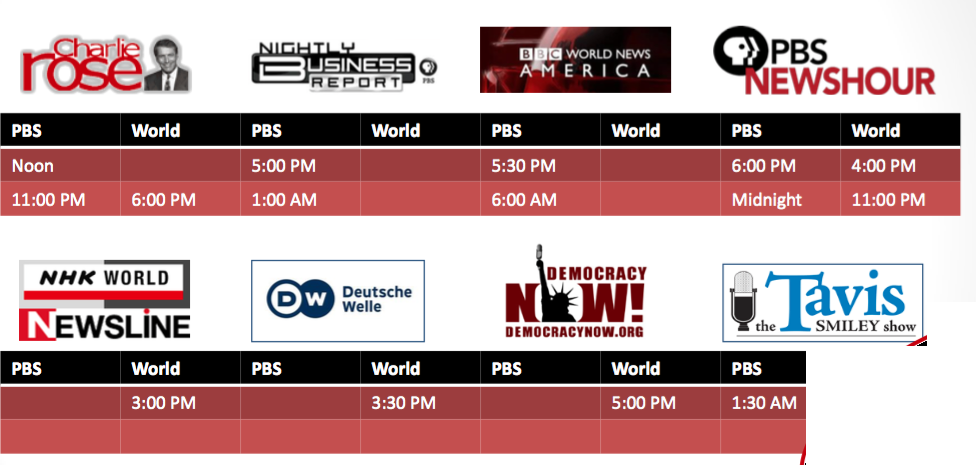 We will have 15 second video announcements shown  before and after each of the Monday news shows, about 16 airings per Monday. This starts Monday, July 10, and runs for  6 months, at least.
Please let friends, family, coworkers, etc know about it.
We hope to increase our outreach to a good demographic.
It will also be on our website landing page.