Past Conferences:
The 2017 Conference Presentations are online
PROSTATE CANCER SUPPORT ASSOCIATION OF NEW MEXICO                                  Conference: What's next for Prostate Cancer Diagnosis and Treatment
A conference dedicated to the memory of Dr. Peter Lindberg                                                                                   Saturday, November 4, 2017
---
                                   Welcome – PCSA –Steve Denning, Board Chairman                                             History of Prostate Diagnosis and Treatment to date 

                                           

Dr. Grollman       (Albuquerque Urology Associates)                                                      Current scanning tools Dr. Eberhardt (UNM )                                                                          The Key to Prostate Cancer

Dr. Scholz                                                                             

 (Prostate Oncology Specialists)
---
Risk Assessment Panel  4 current testing reps 8- 10 min presentations each,  then questions from panel moderator &/or floor
4K test – Bioreference Laboratories –  Dr. Mathur                                                    Prolaris – Myriad Genetics- Dr. Stone                                                                         ProstateNext – Ambry Genetics-  Brooke Overstreet                                              OncotypeDX – Genomic Health –Dr. Denes
Initial Treatments, Urology– Dr. Geswaldo (Pres. Health Services, Urology)                                 Initial Treatments Radiology-  Dr. Gopal (Pres./MD Andersen Cancer Center)                                Advanced PCa Treatments– Dr. Avitia (NM Cancer Center)                                               What's next?-  Dr. Schroeder (UNM Cancer Center)
 Thanks to all the Exhibitors
AccumetRx/Urology Group of New Mexico
Albuquerque Urology Associates
Bayer
Cancer Center at Presbyterian 
Genomic Health 
Janssen Biotech (Zytiga)
Medivation Inc.  (Xtandi)
New Mexico Cancer Center
Santa Fe Radiology
UNM Cancer Center
American Cancer Society
Cancer Services of New Mexico
Our November 5, 2016   Making the Best of a Prostate Cancer Diagnosis Conference    was great
The schedule with abstracts and bios. conference-program
The plaque we presented to the Lindberg Family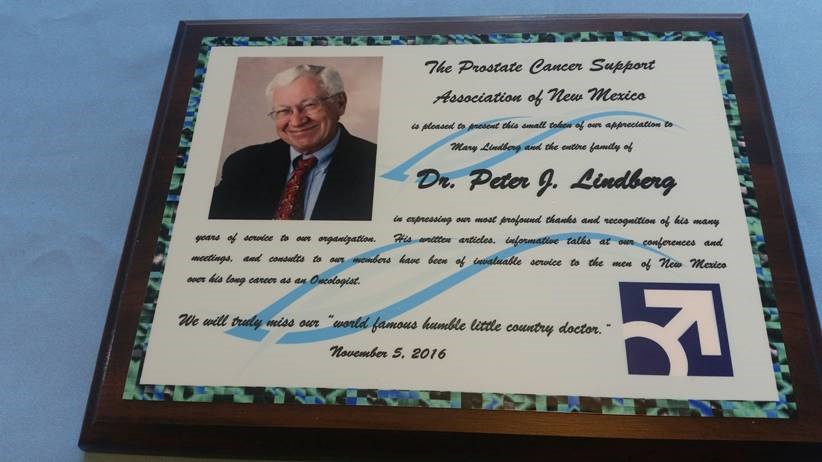 This is the Video Tribute we showed pcsanm-tribute-to-dr-lindberg
Here is the link to the photo book we gave the family, It had many other pictures in it             Family Photo Book
                             Presentations
Dr-Schroeder                Does PSA Testing result in Overtreatment?
Dr-Guo    Sexual Dysfunction after Prostate Cancer Treatments
Dr-Grollman     Erectile Dysfunction and Urinary Problems after your Diagnosis of Prostate Cancer
Dr-Pugach         HIFU   A new treatment for Localized PCA
Here are the slide show presentations  from our 2015 conference in pdf.