The 2017 Conference
PROSTATE CANCER SUPPORT ASSOCIATION OF NEW MEXICO
Conference: What's next for Prostate Cancer Diagnosis and Treatment
A conference dedicated to the memory of Dr. Peter Lindberg
Saturday, November 4, 2017
at    Sandia Preparatory School      532 Osuna Road NE       Albuquerque, NM           Directions
 Morning  –
9:00 – 9:15  Welcome – PCSA –Steve Denning, Board Chairman
Intro to Morning Moderator – Joe Diaz
9:15 – 10:00 – History of Prostate Diagnosis and Treatment to date Dr. Andrew Grollman (Albuquerque Urology Associates)
10:00 – 10:15 – Break
10:15 – 11:00 – Current scanning tools Dr. Stephan Eberhardt, (UNM)
11:00 – 11:45. – The Key to Prostate Cancer Dr. Mark Scholz (Prostate Oncology Specialists)
11:45- 12:45  Lunch Break   lunch available for sale on site
To enable our attendees the most time to talk with each other, and to avoid the need for attendees to go out and find a lunch site and get back in an hour, the Sandia Prep cafeteria will sell lunch and snacks. The main options are Italian and includes the following:  meat lasagna, veggie lasagna, fettuccine Alfredo bake with penne pasta, veggies and garlic bread.  They will also have a salad bar, two size options, as well as sandwich options of turkey, ham and tuna available. They will also have the pastry and coffee stations  available.
12:45 PCSA- Steve Denning, PCSANM Board Chairman
Intro to Afternoon Moderator Robert Wood, retired PCSANM Chairman
1:00– 2:00 – Risk Assessment Panel  4 current testing reps 8- 10 min presentations each  then questions from panel moderator &/or floor
ProstateNext – Ambry Genetics- Rachel Toepfer
Prolaris – Myriad Genetics- Bernadette Malloy
GenomicDX – Genomic Genetics -Jessica Pompa
4K test – GenPath – Mohit Mathur
2:00 – 2:15 Break
2:15 – 3:50 -(2 cycles of 45 min each, 5 min shift time between cycles)  each session on a different topic
Initial Treatments, Urology-Dr. Aaron J. Geswaldo (Pres. Health Services, Urology)
Initial Treatments Radiology-Ramesh Gopal (Pres./MD Andersen Cancer Center)
Advanced PCa Treatments-Dr.Jose W. Avitia (NM Cancer Center)
3:50- 4:35 – What's next?     Dr. Thomas Schroeder (UNM Cancer Center)
4:35- 4:45  Thank you for attending – Closing remarks
PCSA Steve Denning, Board Chairman
5:00  Shut down – Clear the building
Exhibitors
AccumetRx/Urology Group of New Mexico
Albuquerque Urology Associates
Bayer
Cancer Center at Presbyterian 
Genomic Health 
Janssen Biotech (Zytiga)
Medivation Inc.  (Xtandi)
New Mexico Cancer Center
Santa Fe Radiology
UNM Cancer Center
American Cancer Society
Cancer Services of New Mexico
The Prostate Cancer Support Association of New Mexico will hold their Sixth Annual free conference on November 4, 2017 at Sandia Prep in Albuquerque, NM. The conference theme is "What's next for Prostate Cancer diagnosis and treatment". Registration opens at the site at 8:00 AM, and  conference concludes at 5:00 PM.
The conference will delve into a review of the history of prostate cancer diagnosis and treatment, current and expected future scanning techniques, current risk assessment techniques, and what's down the road for diagnosis and treatment. In addition, attendees will have an opportunity to visit with an Oncologist, Radiologist and a Urologist to discuss any concerns they may have. Detailed schedule for the day will be on our website.
Our November 5, 2016   Making the Best of a Prostate Cancer Diagnosis Conference    was great
The schedule with abstracts and bios. conference-program
The plaque we presented to the Lindberg Family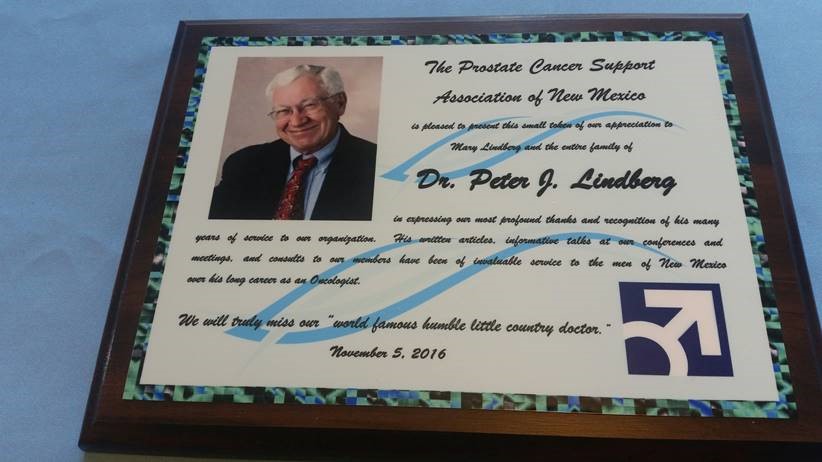 This is the Video Tribute we showed pcsanm-tribute-to-dr-lindberg
Here is the link to the photo book we gave the family, It had many other pictures in it             Family Photo Book
                             Presentations
Dr-Schroeder                Does PSA Testing result in Overtreatment?
Dr-Guo    Sexual Dysfunction after Prostate Cancer Treatments
Dr-Grollman     Erectile Dysfunction and Urinary Problems after your Diagnosis of Prostate Cancer
Dr-Pugach         HIFU   A new treatment for Localized PCA
Here are the slide show presentations  from our 2015 conference in pdf.